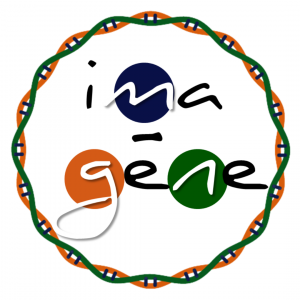 IMA-GENE: now in English, French and Portuguese!!!
The educational wooden game that was born in the Molecular Biology classes at UFSC, in the rural communities visited byt the Imagine Project and in the Oficina do Aprendiz, now has a NAME, A LOGO AND TWO MANUALS, one for users and one for teachers !!!
The game, in its different versions, has already been applied in secondary as well as in higher education, with children and adults, in urban and rural schools, in South America and Africa. You still don't know it?
Created to teach GENETIC CODE, MUTATIONS (such as those that alter the SARS-CoV-2 virus), GENE EXPRESSION and even PHILOGENY, the game Ima-gene does not stop EVOLVING.
Click here to view or download the USER'S MANUAL AND THE TEACHER'S MANUAL (in English, French or Portuguese, just select the right language of our webpage)! Thanks to our volunteer French translator, Fedra Rodríguez!
This is another Open Educational Resource of the Imagine Project!
Click at the images to see or download
---
SOME PICTURES OF THE FABRICATION AND USE OF THE GAME IMA-GENE