COLLÉGIENS DU PROJET IMAGINE-FRANCE PARTICIPENT À LA FINAL ACADÉMIQUE DU CONCOURS CGÉNIAL 2023
Le concours C Génial est un concours scientifique national pour collégiens et lycéens. Il permet aux jeunes, aidés de leurs enseignants, de présenter un projet innovant dans de nombreuses disciplines telles que la physique, la chimie, les mathématiques, la technologie, les sciences de la vie et de la terre… Ce travail d'équipe permet aux élèves de se questionner, suivre une démarche scientifique, faire des expériences et de présenter leur projet face à un jury.
FINALE ACADÉMIQUE AU CEA CESTA (LE BARP)
Le Rectorat de Bordeaux organise chaque année au CEA CESTA du Barp, la finale du concours C Génial. Pour cette 16ème édition qui a eu lieu le 6 avril 2023, 12 collèges y ont participé en présentant leurs projets.
Le Collège Aliénor d'Aquitaine à Salles était parmi les finalistes académiques avec son projet "Imagine : à la rencontre de la diversité des êtres humains". Malheureusement, ils n'ont pas gagné et donc ils ne participeront pas de la finale à la Musée de l'Air et de l'Espace à Paris. Le premier prix a été attribué au collège Yvon-Delbos à Montignac pour la présentation de son projet "CO2 : je t'aime, moi non plus". 
CONFÉRENCE : L'HUMAIN DANS LA BIODIVERSITÉ par Gilles BOEUF
Après la présentation des 12 projets et dans l'attente des résultats du jury, les jeunes ont assisté à une conférence de Gilles Boeuf, biologiste et professeur à l'université Pierre-et-Marie-Curie, Sorbonne Université : "L'Humain dans la Biodiversité"
Echosciences Nouvelle-Aquitaine – 11/04/23 (par Françoise Fournié)
Cliquez ici pour voir les projets des élèves 2023
---
2nd WORKSHOP OF THE IMAGINE PROJECT IN A FRENCH SCHOOL WAS A SUCCESS!!! 🙂 
Module "DNA, Diversity and Heredity"
Collège Aliénor d'Aquitaine, Salles, Gironde (France) – January 16 to 19/2023
Mini documentary of 5 min produced by Dr Marie-Pierre Moisan (INRAe, France)
See below the coverage by the French press (2021-2023)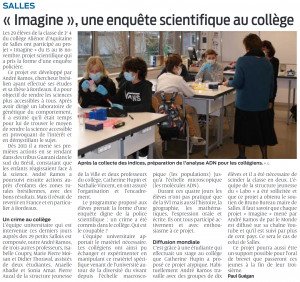 Sud-Ouest – 24/11/21 (click here to read full text)

Le Belinétois – 27/01/2023 (click here to read full text)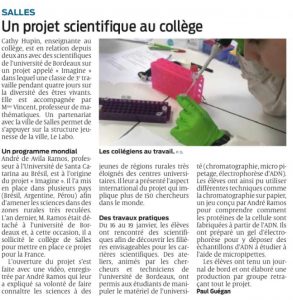 Sud-Ouest – 26/01/23 (click to amplify)
Teaching Material (2023)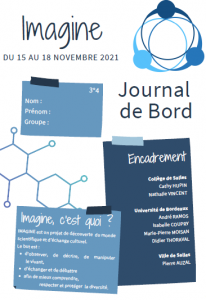 LogBook (by Cathy Hupin)
---
NEW!!! Interactive Activity "THE DIMENSIONS OF LIFE"
---
SEE THE WEBSITE OF THE IMAGINE'S INTERNATIONAL COURSE: The Languages of Science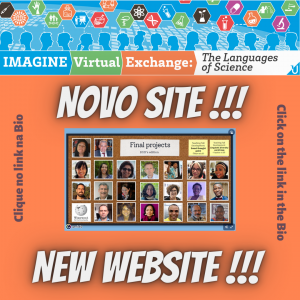 ---
THE IMA-GENE GAME, CREATED BY OUR PROJECT TO TEACH THE GENETIC CODE, HAS MANUALS IN ENGLISH, FRENCH AND PORTUGUESE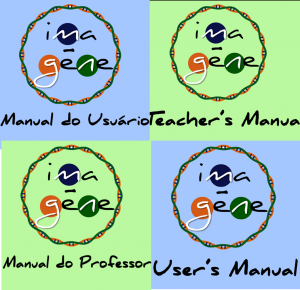 (click on the image to learn more)
---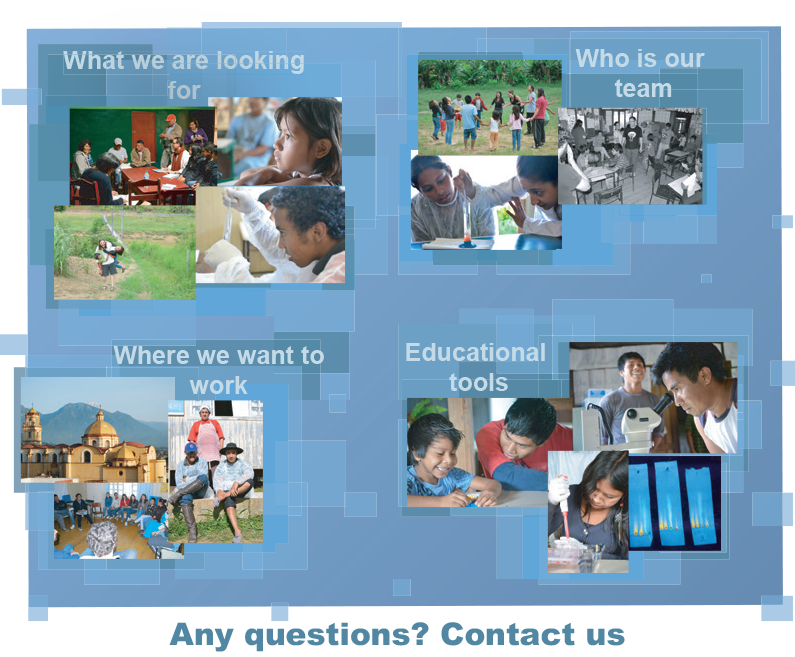 ---

---

Except where otherwise noted, content on this site is licensed under a Creative Commons Attribution-NonCommercial-ShareAlike 4.0 International.