NEW VIDEO: THE LAC OPERON
---
MIDDLE-SCHOOL STUDENTS FROM THE IMAGINE-FRANCE PROJECT WERE IN THE ACADEMIC FINALS OF THE CGÉNIAL COMPETITION 2023
The C Génial competition is a national science contest for middle-school students. With the help of their teachers, students can present an innovative project in a wide range of disciplines, including physics, chemistry, mathematics, technology, life and earth sciences, etc. This teamwork enables them to ask questions, follow a scientific approach, carry out experiments and present their project to a panel of judges.
Every year, the educational authorities of the Bordeaux region organize the final of the C Génial competition at CEA CESTA (Commissariat à l'énergie atomique / Centre d'études scientifiques et techniques d'Aquitaine) in Le Barp. For this 16th edition, which took place on April 6, 2023, 12 middle schools took part, presenting their projects.
The Collège Aliénor d'Aquitaine in Salles was among the academic finalists with its project "Imagine : meeting the diversity of human beings". Unfortunately, they didn't win, so they did not take part in the final at the Musée de l'Air et de l'Espace in Paris. First regional prize went to Collège Yvon-Delbos in Montignac for its project "CO2 : je t'aime, moi non plus".
After the presentation of the 12 projects, and while awaiting the jury's results, the young students attended a lecture by Dr. Gilles Boeuf, biologist and professor at Pierre-et-Marie-Curie University, Sorbonne Université: "The Human Beings in Biodiversity".
Click above to see the article published in the magazine Echosciences Nouvelle-Aquitaine – 11/04/23
Click here to see the students projects from the Imagine-France 2023
---
2nd WORKSHOP OF THE IMAGINE PROJECT IN A FRENCH SCHOOL WAS A SUCCESS!!! 🙂 
Module "DNA, Diversity and Heredity"
Collège Aliénor d'Aquitaine, Salles, Gironde (France) – January 16 to 19/2023
Mini documentary of 5 min produced by Dr Marie-Pierre Moisan (INRAe, France)
See below the coverage by the French press (2021-2023)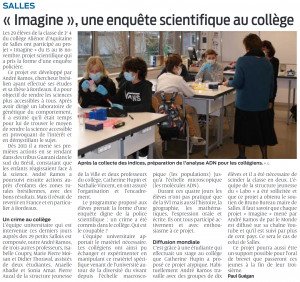 Sud-Ouest – 24/11/21 (click here to read full text)

Le Belinétois – 27/01/2023 (click here to read full text)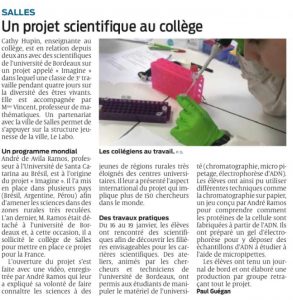 Sud-Ouest – 26/01/23 (click to amplify)
Teaching Material (2023)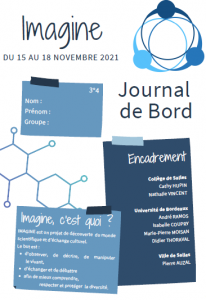 LogBook (by Cathy Hupin)
---
NEW!!! Interactive Activity "THE DIMENSIONS OF LIFE"
---
SEE THE WEBSITE OF THE IMAGINE'S INTERNATIONAL COURSE: The Languages of Science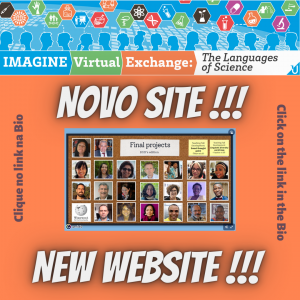 ---
THE IMA-GENE GAME, CREATED BY OUR PROJECT TO TEACH THE GENETIC CODE, HAS MANUALS IN ENGLISH, FRENCH AND PORTUGUESE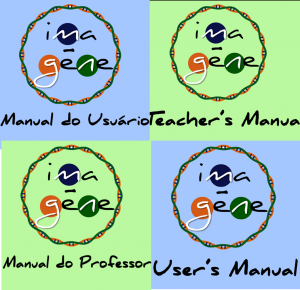 (click on the image to learn more)
---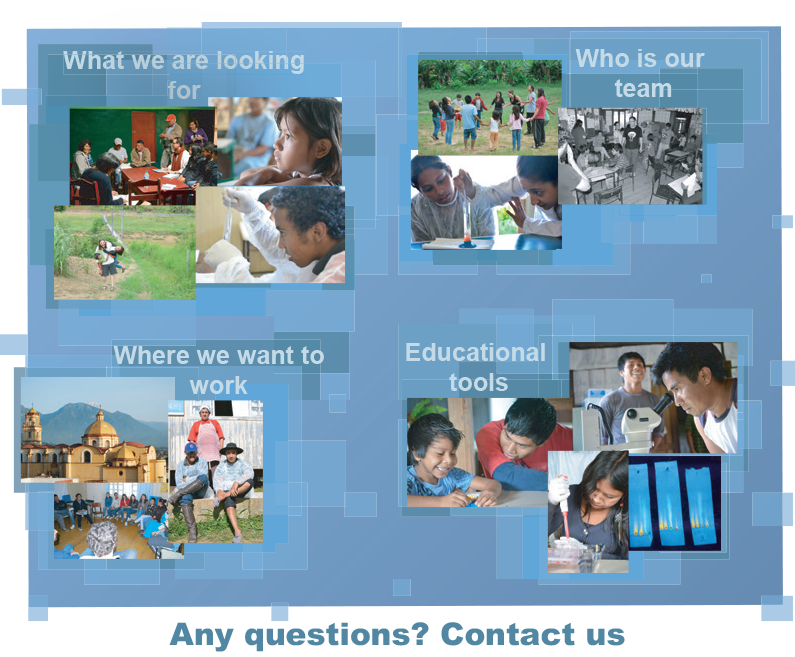 ---

---

Except where otherwise noted, content on this site is licensed under a Creative Commons Attribution-NonCommercial-ShareAlike 4.0 International.